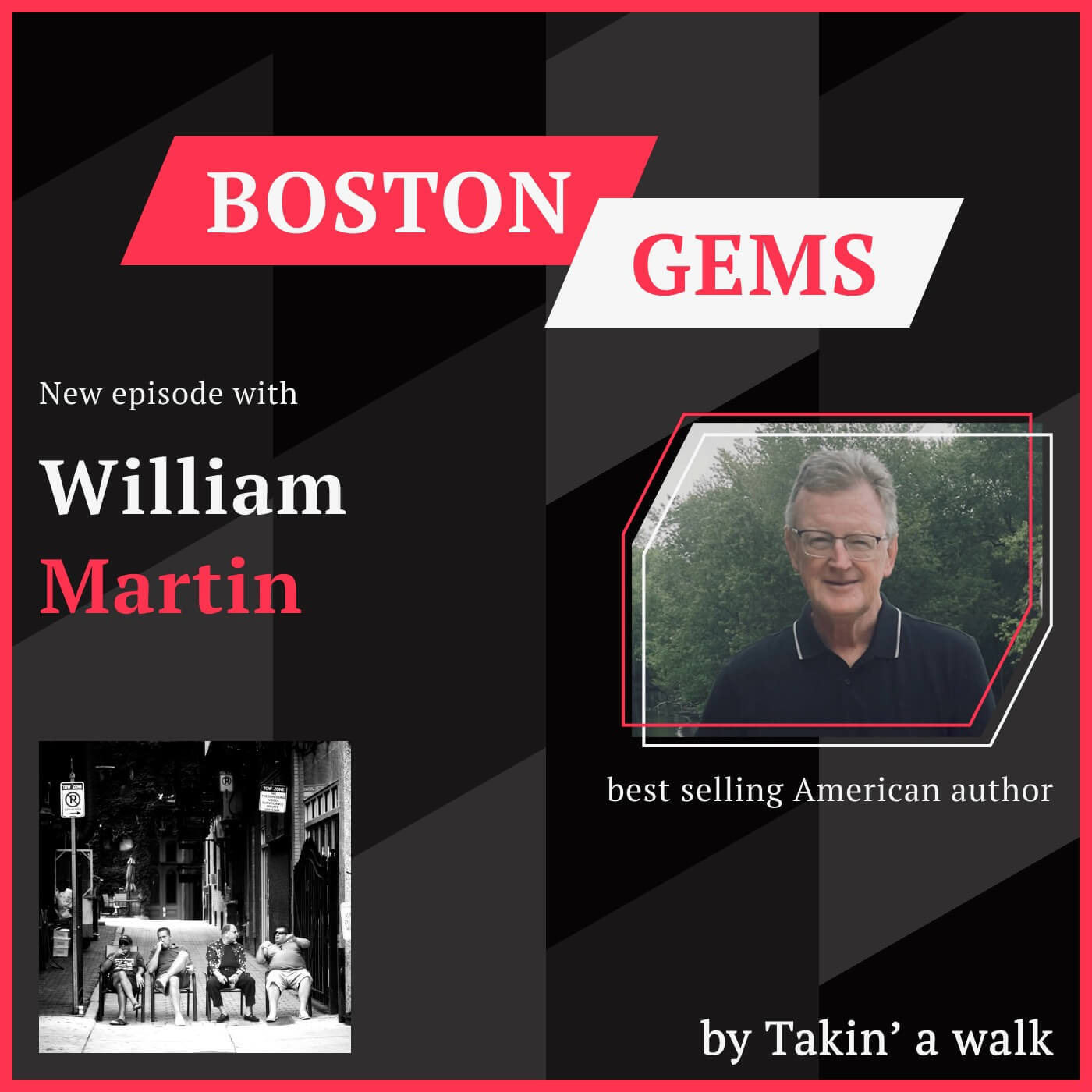 Check out this New release from the "Boston Gems" series part of the new fall season of Takin A Walk.
Join Host Buzz Knight (@TheBuzzKnight) and Best Selling Author William Martin as they walk and talk at The North Bridge in Concord Massachusetts.
William is the "King of the historical thriller" including his latest "December 41."
Check out show notes here.
William Martin: An American Author and His Love of History
Reading is the foundation of a good writer and one of the most important skills to possess. It allows one to develop an arsenal of ideas and find unique ways to write about a topic. It also makes one a better writer by providing inspiration and developing writing skills. Join this conversation and meet William Martin, a "storyteller whose smoothness matches his ambition." (Publisher's Weekly)
In his boyhood, William Martin loved what he later called "big stories on broad canvases." He read the historical novels of C.S. Forester and Esther Forbes. He sat transfixed by the big movies of the early sixties. So, after college, he went to Hollywood to try his hand at screenwriting but discovered that his instincts were better suited to novels. His first, "Back Bay," introduced treasure hunter Peter Fallon to a new kind of adventure that joined the contemporary mystery-thriller to the historical novel. In his twelve novels (including six bestselling Peter Fallon adventures), Martin has tracked national treasures across the landscape of the American imagination, chronicled the lives of the great and the anonymous in American history, and brought to life legendary American locations, from Cape Cod to Washington DC in "The Lincoln Letter." And after the publication of his Gold Rush epic, "Bound for Gold," the Providence Journal called him "the king of the historical thriller." "December '41," published in the summer of '22, provides readers with another propulsive journey through American history.
He has also written an award-winning PBS documentary on the life of Washington, a cult-classic horror movie, has contributed book reviews to the Boston Globe and The New England Quarterly, and has taught writing across the country, from the Harvard Extension School to the legendary Maui Writers Conference. He lives near Boston with his wife and has three grown children. He received the 2005 New England Book Award, "an author whose work stands as a significant contribution to the region's culture." He has also won the Samuel Eliot Morison Award and the Robert B. Parker Award.
Tune in!
During this episode, you will learn about;
[00:00] Episode intro and our today's walk at Boston with Author William Martin
[03:15] How his love for historical research and findings came into being
[04:43] Aspiring to become a movie director and how the ambition hit the wall
[07:53] Writing his book; December '41
[09:37] What it took to crack the success code with his book; Back Bay
[12:02] How he develops the sinister and nasty characters for different scenes of writing
[15:27] What influenced the sense of humor in his books
[16:46] Time and resources needed from start to finish and publish a book
[25:10] The future of William's writing
[26:40] Ending the show and call to action
Notable Quotes
The easiest way to get into the movie business was to write a good screenplay.
The arrogance to accept corrections and setbacks is what keeps young people stagnating.
If you are not a writer, you should be a great reader.
To be a good writer, you should also be a great reader.
No surprise in the writer, no surprise in the reader.
William's Books Mentioned and Other Resources
December '41: A World War II Thriller: https://www.amazon.com/gp/product/B09CNF9RT7/
Connect With William Martin
Website: https://www.williammartinbooks.com/
Twitter: https://twitter.com/Martinbooks